If you wish to donate to any projects please do so here.
Latest News
Correspondence from our link branch in Nigeria
Rebuilding Hope and Confidence - Living with Covid-19
Zoom Breakfast ~ Saturday 6th February 2021
The proposed "Women's Getaway" which was planned for 5th - 6th February 2021 in the Springfield Hotel in Leixlip has been cancelled due to ongoing concerns as to how it can be safely organised with the ongoing restrictions to try and stem the spread of Covid-19. The organising committee instead has planned a "Zoom Breakfast" for Saturday 6th February. To register for this event email: allirelandym@gmail.com

Please register before Friday 29th January 2021

A poster is available to download with details of the event and information about the key speakers..

The planned schedule for the morning is as follows:
10.00a.m. - 10.15a.m. ~ Welcome
10.15a.m. - 10.45a.m. ~ Speaker - Lydia Monds
10.45a.m. - 11.00a.m. ~ Activity
11.00a.m - 11.15a.m. ~ Comfort Break
11.15a.m. - 11.45a.m. ~ Speaker - Karen Grey
12.00p.m. - 12.30p.m. ~ Midday Prayers including Annabelle Hayes Celebration

Project 2020-2022 in association with Home Start
Project 2020-2022 in association with Home Start was launched by MU @Diocesan Council in Wesley House. Members of MU Branches in the Diocese will put together Personal Care packages for mothers attending Home Start, Blakestown Cottages, Mulhuddart. Dublin 15.
www.dublin.mothersunion.ie Facebook: Mothers Union Dublin & Glendalough
www.homestartblanchardstown.ie Facebook: Home Start, Blanchardstow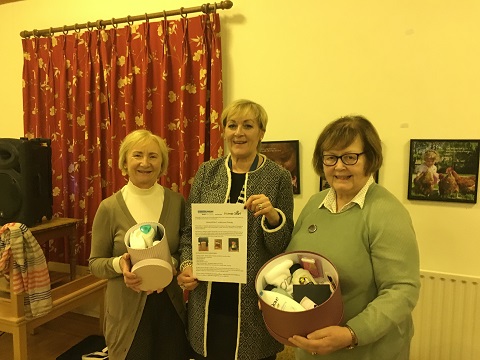 Photo: Diocesan President, Mothers Union Dublin & Glendalough, Karen Nelson with Mary Troy, Fundraiser, Home Start and Rachel Devlin, Vice President, Mothers' Union, Dublin & Glendalough.
16 Days of Activism Press Release
Ms Avril Gilatt, Faith & Policy Co-ordinator of Mothers' Union, Dublin & Glendalough Diocese organised this event. The vigil was led by the Rector, Rev Garth Bunting, Ms Karen Nelson, Diocesan President Dublin & Glendalough participated.
The guest speakers were Ms. Kate O'Halloran, Forensic Clinical Examiner, Specialist Midwife, Sexual Assault Treatment Unit, Rotunda Hospital.
Ms. Michele Bevan, volunteer Support Worker, Dublin Rape Crisis Centre. Leeson Street, Dublin 2.
Through prayer and reflection, the congregation were led to think about the predicament where so many women find themselves victims of domestic abuse. Research has shown that the prevalence in Ireland is 1:4 and 1:4 worldwide. Ms Kate O'Halloran spoke about how women who are traumatised by sexual assault are sensitively treated once the arrive at the Sexual Assault Unit and the continued support that is available for as long as is needed. Michele Bevan spoke about the work of the Dublin Rape Crisis Centre in supporting victims through counselling, facilitating all medical and legal appointments and accompanying women to court. The key message is that people be encouraged to report sexual assault as doing so helps them recover from trauma.
In remembrance of all women suffering domestic abuse, 16 candles were lit by the Diocesan President Ms Karen Nelson and members of Council, the invited speakers and guests from the congregation. We are encouraged to raise awareness about women suffering gender-based violence in these 16 days between 30th November which is International Day for the Elimination of Violence against Women and December 10th which is International Human Rights Day.
Continued prayers and increased awareness of the reality of domestic abuse is essential to be able to discuss this very real problem more openly. Marking the 16 Days of Activism against Gender based Violence attempts to increase awareness, remove the stigma and facilitate more open discussion.