I would like to share with you Joy Gordon's reflection which she wrote recently
Reflection July 2020………… With every breath we take.

Having worked for over 30 years in an acute hospital, the arrival of Covid 19, brought challenges and situations which I thought I would never experience. The fear of the unknown, worry and anxiety, changing work practices, redeployment and the uncertainty of the future rocked the familiar and comfortable. As I reflect on this time, the stillness and quietness in the hospital stands forefront in my mind. It was disconcerting to have busy, bustling corridors, now empty and silent. I worried constantly and still worry that I would inadvertently expose my family to Covid 19. I keep in daily contact with our daughter who is living and nursing in central London. She is working on a ward where all her patients are Covid positive. I am sure I must drive her mad checking everyday if she had a temperature, cough, or shortness of breath. I miss so much visiting my mum especially knowing that she lives alone but her stoicism and fortitude inspires us all. There were times when anxiety and fear gripped me where I felt I could not breathe. Other times where I felt guilty when I complained about trivial matters when others had the heartache and devastation of losing loved ones. Everyone will have their own experience and story to share, times of joy and times of sorrow with Covid 19. It has made its imprint on this generation and the impact of this is yet to come.

Over the last few weeks the news headlines have drastically changed. The rallying chant of 'I can't breathe' associated with the Black Lives Matter movement in the United States, has been seen and heard across our television screens and newsfeeds, with demonstrations and protests taking place throughout the world. Covid 19 has been described as the great leveller as the virus did not distinguish between race, colour and creed but at the hand of man, prejudice and violence continue throughout the world. Human rights and campaigning against violence has always been central to the work of Mothers Union.

The earth and environment are breathing again as carbon emissions drop and we hear reports of fish returning to the canals in Venice and blue skies above the Taj Mahal. Closer to home, I particularly enjoy listening to the birds singing and chattering as I potter in the garden giving my husband the orders of where the long-awaited bedding plants are to go.

As we hold our breaths, we await in hopeful expectation of the next phase in opening our country so that we can breathe again in the comfort and security of the familiar. There are many references to breathing in the Bible with breathing and breath being a powerful symbol of the life-giving presence of God. We cannot see Him, we cannot smell Him, we cannot taste Him and there may be times in our lives when we may not feel that God is present, but He is like the air we breathe, ever present surrounding us like an immense ocean. Our very existence on earth is dependent on the invisible air we breathe. We are not conscious or aware of the air we breathe unless it moves or is taken away. As Christians we recognise that the breath of life is a gift from God. Breathing and our dependence on air shows how fragile our human life is and with every breath we take, we can be assured that there is always hope.

As we move forward in hope and confidence, I am reminded and inspired by the words of this well-known hymn by Edwin Hatch:

Breathe on me, Breath of God,
Fill me with life anew,
That I may love what thou dost love,
And do what thou wouldst do.

Welcome to Dublin & Glendalough
Within this worldwide organisation we are part of the All-Ireland body. In Dublin & Glendalough we have 27 branches situated throughout the counties of Dublin, Wicklow and a part of Kildare. This website aims to give helpful information for and about the Mothers' Union in the United Diocese of Dublin & Glendalough. The goal of the Mothers' Union is to be specifically committed to strengthening and preserving family life and marriage, by our Christian faith through practical action. This practical action can be seen through the giving of self, in prayer, in voluntary work, and in helping those less fortunate than ourselves in whatever ways we can.
About us
Our team of friendly staff work hard to run the Dublin & Gelndalough organisation. Find out who we are, dates to put in your diary and the branches where we meet.
About us
What we do
The Mothers' Union has projects set up for people all over the world. Find out more about local projects that you can join in with and how to get invloved with international projects.
What we do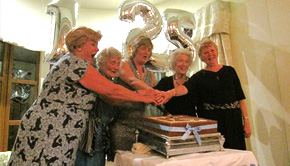 Milestones
Every month we reach key milestones with projects for groups and individuals. Here you can see photos from these projects and events that take place to celebrate their completeion.
Milestones
The Mothers' Union Prayer
Loving Lord, we thank you for your love so freely given to us all. We pray for families around the world. Bless the work of the Mothers' Union as we seek to share your love through the encouragement, strengthening and support of marriage and family live. Empowered by your Spirit, may we be united in prayer and worship, and in love and service reach out as your hands across the world. In Jesus' name.
Amen.