A Letter to our Members
Dear Branch Leaders, members and friends 28th March 2020

Further to the advice of Leo Varadkar last night, and the stricter recommendations for minding ourselves have been put in place, I thought I would share a few things with you. I know it is very difficult not being able to see loved ones, not spending time with family members and not being able to simply hug each other but we must remember it is all for a very best reason. Central to Mothers' Union is our prayer so let us uphold all those who are sick and also the frontline workers. May God look after them all.

I hope many of you watched Songs of Praise with Mothers' Union last Sunday afternoon on BBC1 - not only was the hymn s inging up-lifting but the members from Worthing showed our organisation in a wonderfully positive way. However, for now, we focus on the needs of our members here by being Practical and Prayerful - the two Ps.

There is a lot of advice being given by our public services and charities to help you think about what you might do, in practical ways, to identify and help those who are ill, in need and who cannot get food or other essential supplies. Many of our MU members are in the "at risk" age group, live alone, may be self-isolating and perhaps now be really lonely. It is great if they have access to the internet and social media but this will not be the case for many. So a simple telephone call can make such a difference and please try to talk about something which is of real interest to them!

I know many of you are already knitting, sewing and making items for our MU projects - baby blankets and bonnets, prayer shawls and fiddle muffs to name a few - well done! All these items will be of great use and importance when our normal MU service to communities resumes.

I read the following article which might be of interest to some of you:-

"We are social animals, so we need and naturally crave closeness and connection with other people. With the current health crisis many of us may be physically isolated or distant from others, so it's important that we consider creative ways to connect in order that we don't become socially isolated and lonely. How can you continue to connect with family and friends and have social time in a virtual way? Perhaps using social media, phone and video calls you could set up shared online activities e.g. a virtual book or film club by using Zoom. You could also explore local online neighbourhood groups, and see if there are ways to be involved in helping your local community. For those who don't know or have access to the internet there are endless things to do to keep busy: Draw a picture, Take a photograph, Doodle, Do some sewing / knitting, Listen to music you like, Turn on the radio, Sing a song, Daydream, Meditate, Pray, Try relaxation exercises, Try some gardening, Plant something, Do some pruning, Mow the lawn, Pick Flowers, Go for a walk, Sit in the sun, Make a 'to do' list, Make a 'bucket list' Read a favourite book, Read a new book, Read the newspaper, Get up extra early, Stay up late.

If you do things that are important to you then this can also impact your mood. At the end of each day could you check in with yourself and reconnect on 'what did I do today that gave me a sense of achievement? Pleasure? Closeness with others?' Did I get a good balance, or what can I do differently tomorrow?"

I hope some of the above has been helpful to some of you, but let me now offer you a short bible reading and refection. I hope that you will find some comfort and solace from these words.

Please read again Psalm 62 Verses 1 to 8. In the Contemporary English Version, verses 1, 2 and 8 are:


Only God can save me, and I calmly wait for him.
God alone is the mighty rock that keeps me safe and the fortress where I am secure.
Trust God, my friends, and always tell him each of your concerns.
God is our place of safety.
Many of the Psalms begin with David telling us of his great need for God, especially in a time of crisis. This psalm was written by David to proclaim his reliance on God and this is so relevant to us today in this world crisis. God is a refuge for us. Whatever He may be to others, His own people have a special heritage in Him; for us He undoubtedly is a refuge. Verse 8 says we must tell Him of all our concerns, and we should go to Him whenever sorrows and problems weigh heavily upon us. Prayer can perhaps be considered as the duty of those to whom the Lord has specially revealed himself - He is our place of safety. We really need to feel such safety and have assurances from God during this unprecedented health crisis.

I hope you will find the following prayer of help to you at this time.

Almighty and ever-loving God,
We pray to you for those who suffer from the Coronavirus
in Ireland and across the world.
We pray too for all those who mourn the loss of a friend
or family member who has died as a result of contracting the disease
and those who support them in their grief.
s Give wisdom to policymakers, skill to healthcare professionals and
researchers, comfort to everyone in distress
and a sense of calm to us all in these days of uncertainty and distress.

Keep safe and God Bless
In love and service
Karen x
Welcome to Dublin & Glendalough
Within this worldwide organisation we are part of the All-Ireland body. In Dublin & Glendalough we have 27 branches situated throughout the counties of Dublin, Wicklow and a part of Kildare. This website aims to give helpful information for and about the Mothers' Union in the United Diocese of Dublin & Glendalough. The goal of the Mothers' Union is to be specifically committed to strengthening and preserving family life and marriage, by our Christian faith through practical action. This practical action can be seen through the giving of self, in prayer, in voluntary work, and in helping those less fortunate than ourselves in whatever ways we can.
About us
Our team of friendly staff work hard to run the Dublin & Gelndalough organisation. Find out who we are, dates to put in your diary and the branches where we meet.
About us
What we do
The Mothers' Union has projects set up for people all over the world. Find out more about local projects that you can join in with and how to get invloved with international projects.
What we do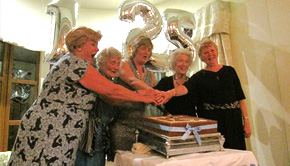 Milestones
Every month we reach key milestones with projects for groups and individuals. Here you can see photos from these projects and events that take place to celebrate their completeion.
Milestones
The Mothers' Union Prayer
Loving Lord, we thank you for your love so freely given to us all. We pray for families around the world. Bless the work of the Mothers' Union as we seek to share your love through the encouragement, strengthening and support of marriage and family live. Empowered by your Spirit, may we be united in prayer and worship, and in love and service reach out as your hands across the world. In Jesus' name.
Amen.