A Letter to our Members
Dear members and friends 5th June 2020

I hope you all enjoyed the bank holiday weekend and the glorious weather not to mention the benefits of some social distancing family meet ups. It is so promising to see that the spread of Corona Virus has dropped so dramatically and we are on the right road to somewhat normal lives. There will be many challenges ahead but we must count our blessings and remember to pray for those less fortunate than ourselves, especially those who are ill and cannot see family, those who have been bereaved and not able to grieve in the normal way, those who have lost their jobs because of Covid 19 and then there are those who face loneliness every day.

Next week the Trustees will be holding their first board meeting through Zoom, so that will be both challenging and interesting. We have not had a full board meeting since February so we will have a lot to talk about and especially how we can have our annual festival service in September.

The following is a Reflection prepared by Hilary Dring, Diocesan President of Mothers' Union in the Dioceses of Cork, Cloyne and Ross which I thought would resonate with many of you.
---
The steadfast love of the Lord never ceases; his mercies never come to an end; they are new every morning; great is your faithfulness. "The Lord is my portion," says my soul, "therefore I will hope in him." Lam. 3:22-24

I don't know about you, but I have noticed that even as a healthy, well person with all my family at home and plenty to do, I am finding things difficult some days. How much more difficult it must be for so many who have other challenges to deal with alongside the COVID-19 pandemic! In a recent article entitled 'Care of the Soul in the Time of COVID-19'* the author, Ronald Pies, writes "I would like to suggest that the current pandemic unsettles our souls in ways we are just beginning to understand. Just as the COVID-19 virus attacks the respiratory tract, the pandemic itself can assault the soul." One of the things he mentions has helped me to understand why I might find things difficult at the moment – he calls it displacement.

Normally, I volunteer two days a week at a local nursing home as part of the pastoral care team, a role that I love and which gives me meaning and purpose. I know that my presence there makes a difference. All of a sudden, from one day to the next, COVID-19 took that from me. Since the 6th March I have not been able to visit the home. Many thousands of people have been and continue to be displaced from their usual jobs and accustomed roles. Teachers are missing their pupils, rectors cannot hold services in the church, parents are home schooling, and the health care worker has become the patient. So many things have been turned upside down. Nothing seems like it was and there are many losses in our lives, from loss of freedom to loss of hugs and all that lies in-between. I understand better now why it is difficult some days. Like so many, I cannot do what I love to do; I am missing that which gives my life structure and purpose.

What helps is to have a routine, to have a time when I do things for others, such as Mothers' Union jobs, a time for jobs at home, a time for family and a time for myself. Recently, I discovered how wonderful it is to be so much more mindful of whatever it is I am doing – I was hanging out the clothes and became aware of the amazing variety of fabrics and colours, of how they felt and how good it was to be able to hang them out in the warm sun. I baked bread and thought about the feel of the flour, the mixing in the buttermilk by hand and the wonderful smell coming from the oven. It all helped me to enjoy and be in the moment. Well-known words from Psalm 118:24 encourage us to rejoice in the day the Lord has made. For me this means being thankful for what I have and can do, and enjoying today. Somehow I need to learn, as do so many of us, how to live in a new way in the circumstances we are in now, rather than wishing it were different or 'back to normal'.
---
We need a constant reminder to try and enjoy the moment as we continue to move forward.

In love and service

Karen xx
Welcome to Dublin & Glendalough
Within this worldwide organisation we are part of the All-Ireland body. In Dublin & Glendalough we have 27 branches situated throughout the counties of Dublin, Wicklow and a part of Kildare. This website aims to give helpful information for and about the Mothers' Union in the United Diocese of Dublin & Glendalough. The goal of the Mothers' Union is to be specifically committed to strengthening and preserving family life and marriage, by our Christian faith through practical action. This practical action can be seen through the giving of self, in prayer, in voluntary work, and in helping those less fortunate than ourselves in whatever ways we can.
About us
Our team of friendly staff work hard to run the Dublin & Gelndalough organisation. Find out who we are, dates to put in your diary and the branches where we meet.
About us
What we do
The Mothers' Union has projects set up for people all over the world. Find out more about local projects that you can join in with and how to get invloved with international projects.
What we do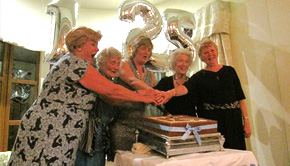 Milestones
Every month we reach key milestones with projects for groups and individuals. Here you can see photos from these projects and events that take place to celebrate their completeion.
Milestones
The Mothers' Union Prayer
Loving Lord, we thank you for your love so freely given to us all. We pray for families around the world. Bless the work of the Mothers' Union as we seek to share your love through the encouragement, strengthening and support of marriage and family live. Empowered by your Spirit, may we be united in prayer and worship, and in love and service reach out as your hands across the world. In Jesus' name.
Amen.